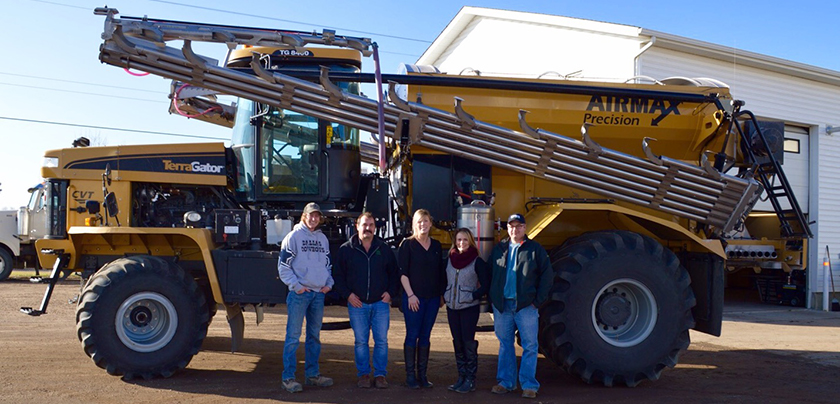 Superior Crop Management Team:
Brent Clark: Owner / Agronomist
Brent was born & raised in the Killam area of east central Alberta. He has always had a passion for agriculture and farming. He has worked in the Agri Retail industry since 1996 and has been with Superior Agri Service since April of 2000. He is a graduate of Olds College with an Agricultural Production diploma and also a Crop Advisor diploma. He also became a Certified Crop Advisor in 2002. Brent has very good knowledge, experience and expertise in growing crops in the Fort Saskatchewan area. Brent is currently a part owner of Superior Crop Management.
Ivan Tatarin: Customer Service Representative
Ivan is a highly self motivated and success oriented individual with more than 20 years of professional experience in the commercial/business aspects of agriculture. He has been stationed at various sites in western Canada with management responsibilities. He offers effective interpersonal and communication skills when dealing with customer issues and assures customers their satisfaction is his first priority. He is also a safety conscious person that takes the extra steps to maintain an incident free environment.
Stephen Johnson: Sales Agronomist
Stephen joins the team with a lifetime background in grain and cattle farming. Having gone through the Beef Program, he is a 4-H lifer and continues to provide judging and mentorship to various clubs. Stephen is a Land & Water Resources Reclamation Major with Olds College. Stephen and his wife Dacie, continue to grow their cattle operation while helping with family farming operations. Stephen brings his experience and knowledge in the application and administration of pesticides control and herbicide solutions. Stephen is results orientated, a team player and dedicated to delivering client focused service.
Kim Mohr: Office Manager
Kim is the friendly voice on the phone and the smiling face that greets you when you come into our office. She has a Bachelor degree in Education from the University of Alberta. Kim has been immersed in agriculture from a young age, having been raised on a horse farm, showing Morgan horses and involvement with the local 4-H club. In her spare time, she enjoys gardening, riding horses, and spending time with friends and family. She currently lives with her husband on the family homestead in Strathcona County, Alberta.
Dean Rejesky: In-House Maintenance
Dean was born and raised in Sherwood Park, Alberta. Currently a resident of Fort Saskatchewan, Dean is a 3rd year Millwright Apprentice and the most recent employee of Superior Crop Management. He enjoys all sports especially, slo-pitch baseball, fishing and golf. Along with being a 'people' person Dean has a great work ethic. Dean is responsible for in-house maintenance at our location.